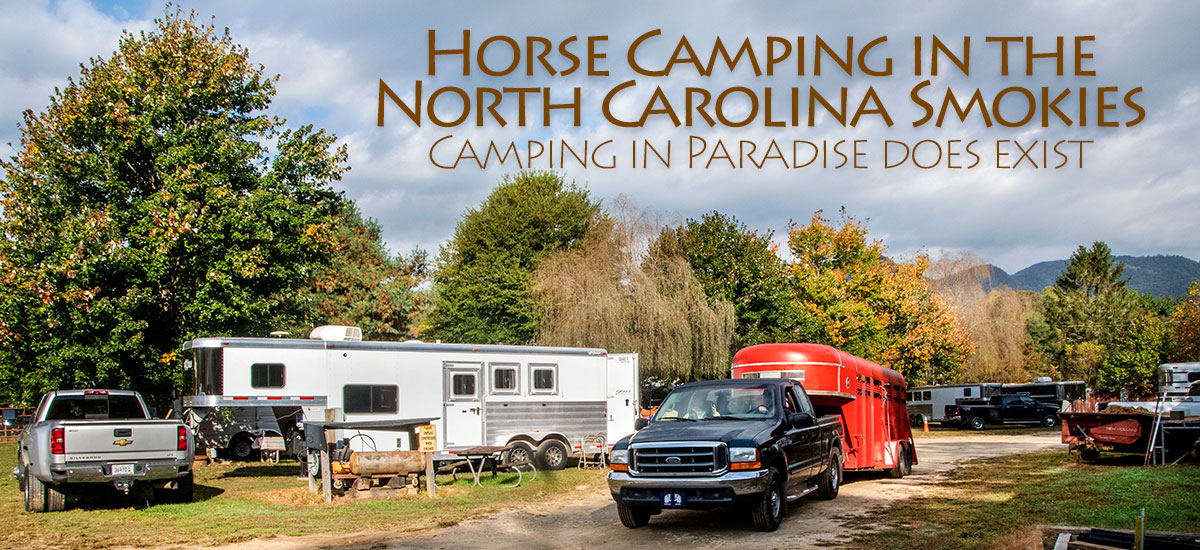 Five Trailheads.
400 Miles of Trails.
All in the Great Smoky Mountains.
All Close By.
A Great Bryson City Location.
If you like riding in the North Carolina side of the Great Smoky Mountains National Park, you can do it all from our Deep Creek horse camp.
We're only a mile from the Deep Creek trail head in the National Park. Ride along the streams. Climb to the mountain tops. Explore the many miles of the most scenic trails you'll ever ride.
And there's more to the GSMNP than Deep Creek. It's just a short drive to five trail heads —
• Deep Creek  Photo gallery
• Twenty Mile / Fontana
• Forney Creek  Photo gallery
• Noland Creek  Photo gallery
• Smokemont
• Fontana
• Towstring
We have maps ($1.50) to all the trails and are happy to help you plan your day of horseback riding in the Smokies.
Also ride in the Nantahala National Forest with miles and miles of trails and roads.
Photos from our guests' rides in the Great Smoky Mountains National Park
About Bryson City
Bryson City, NC is a small mountain town with a surprising variety of restaurants and shopping. Take an afternoon to stroll the streets in search of your favorite ice cream, made-from-scratch cupcakes or chocolates; browse through a bookstore or two; explore the art studios, museums, crafts, gift and antique shops; or just sit on a bench and watch the world go by.
And when your tummy rumbles, you'll find a number of dining options: steaks, buffalo burgers, Cuban sandwiches, seafood platters, pastas, pizzas, Mexican food, local trout, quiches, fish and chips …well, you name it.
We've even got an award-winning craft brewery in town – you can catch some live music or the big game while enjoying a brew.
Wait, There's More
You'll find everything you want to know about the Bryson City area — rafting, shopping, dining, sightseeing, Cherokee — in the online travel guide, GreatSmokies.com.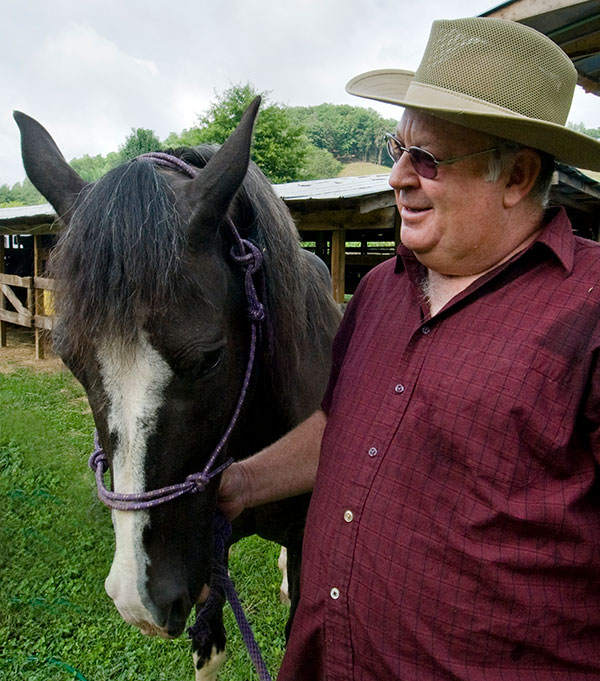 James Clark, owner,
with his buddy Blackjack
Previous Campers and Guests —
Please send me a photo of you (and your horse, if possible) and the date of your visit … for my memory book. 
— Thanks, James 
DEEP CREEK HORSE CAMP
750 W. Deep Creek Rd. #11
Bryson City NC 28713
James Clark
James28713@aol.com
828-736-1270
2023 Season
Open Sunday, April 2, 2023 (weather permitting)
Close Sunday, October 15, 2023
Please call us during regular business hours to check availability
Click or tap below to download printable reservation request form and liability waiver
Check Out no later than 12 noon.
Check In after 12 noon.
NOTE: Make checks payable to James Clark. Non-refundable deposit is required.