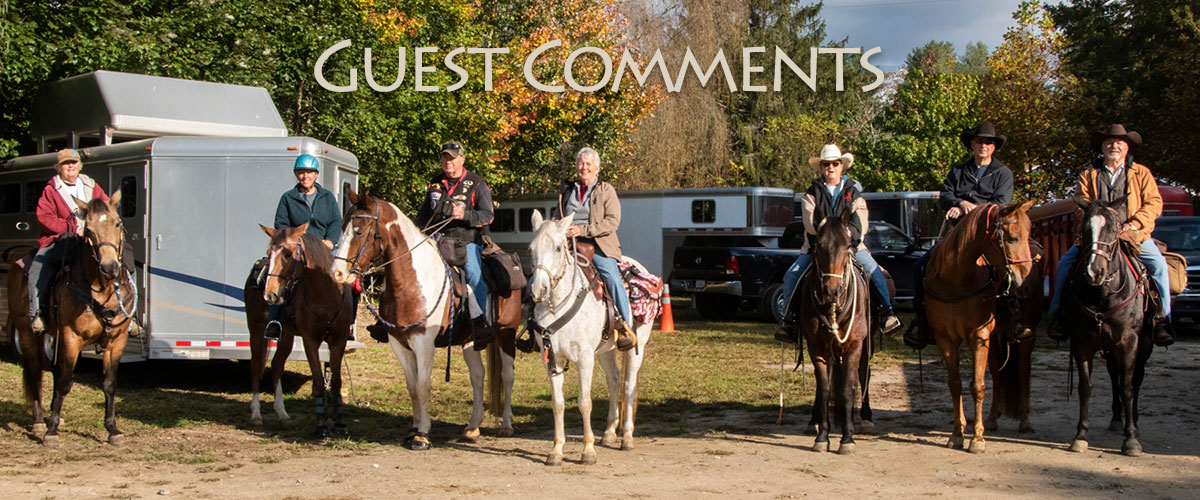 Happy Campers
Can't wait to come back. Been coming here for years now and every trip it gets better! My horses and I cannot wait till our next adventure in October. — Teresa Ross
Best camping and riding we have ever done. Loved Deep Creek and James Clark. You need a horse and rider in good shape that is for sure. James was the best camp owner we have ever dealt with, he knows where every single trail is and tons of great stories. Try it you will love it as well. you will be close to Cherokee, NC and Bryson City NC, both have so much to see and do. Read my complete review below. — Patricia Clifford
Pat Clifford's complete review
Several people have asked about Deep Creek Campground. It is a small camp with only 12 sites. If you have a big rig you can get in any site, David drove his semi and had no problem. There are plenty of stalls, and each one has its own water spicket. There is one shower house with restroom, sink, etc. There is an ice machine and shavings for stalls. Dogs are welcome but you have to keep them on a leash and pick up after them. James has rules like all campgrounds, it is a one man operation. You trailer your horses to the trails, there is no direct trail access from the camp. James has 6 stock trailers, each with a divider and holds 4 horses. The trail heads are maybe 12 miles from camp. You use your truck, and it was fine. You can access some really nice trails from his camp by riding a road about a mile, it has little traffic. I believe there are about 500 miles of trails. James Clark is the owner and he made our visit even more enjoyable. He worked 34 years for the Forest Service, riding a horse everyday with a crew keeping the trails cleared and marked. You can buy a map from him; or when you decide where you want to ride, he will hand draw a map, he knows where everything is. If he tells you not to take a certain trail do not take it. I do not think there is a 3 hr trail in the park, you can ride out and back track which is fine, since you have not seen the area before. We rode 14 mile and 16 mile trails and a shorter one. The riding is not for everyone; if you have a good horse, love to ride, and are not afraid of heights then you will be fine. The trails along the water are a bit rocky, the other trails are dirt. The trails are the best marked I have ever seen. You send in a deposit of half your stay, there is no refund or transfer. The camp fills up quickly so it is best to plan ahead. We are going back, there is just too much to see. For folks who do not ride, we drove to see the Elk at the Cherokee side, at the Park's Visitor Center, towards dusk the Elk come down from the mountains and enter the big fields. You can pull you car or truck off the road, get out and observe and take pictures. The Elk are wild but people and traffic do not bother them. Bryson City and Cherokee have tons of things to do, and if you fly fish you will be in heaven, we saw people fishing everywhere, There is water everywhere in the mountains and towns. Please look at Deep Creek's web page, the trailering was not at issue at all. We all loved it and highly recommend Deep Creek and North Carolina. Hope this is helpful. Pat Clifford 2017

What an outstanding week we had!! James is by far and away the most awesome host we have ever dealt with… EVER! The accommodations are fantastic and the hospitality is un-equaled. Six out of five stars. Thank you for a fantastic week of suggested riding on some of the most beautiful breathtaking trails we have ever been on. — Rod and Deirdre Welling
Thank you again for such a wonderful time. I have attached a picture of my sister myself and my wife (and the horses) I would tell you where it was taken, but something tells me you knew as soon as you looked at it… LOL Thank you again and hope you have a wonderful season — Rod Welling
We come to Deep Creek Horse Camp every year and it's just like coming home. James is a AWESOME host and a great guy. — Brandon Nichols
James always makes our stay wonderful with all our horse needs provided, we, and by we I mean a group of ladies from Georgia mountains have come here many times and have always come away with great memories, thanks James for your hard work, so we could play in God's Country. I would recommend this place to anyone who dreamed of riding their horse in the beautiful Smokey Mountains, James and his horse camp can make it happen! — Nancy Bailey
We stayed at Deep Creek Campground with our mules for the first time in May 2016. We thoroughly enjoyed the trails and the campground was very comfortable. James and the camp host, Charles, were very accommodating. We highly recommend Deep Creek! We are planning to return Spring 2017! — Margaret Macy
Love Deep Creek Horse Camp and James Clark! Best place to ride the Smokies, hands down! — Debi Houston
Great little campground. James could not be more accommodating. Would highly recommend for you and your equine friends! Can't wait to go back. — Linda Peterson
Loved Deep Creek. Awesome riding, very good camp, great host and owner, James Clark. I can not say enough good about Deep Creek Horse Camp. My husband and I have ridden all areas of the GSMNP and camped.. We have also ridden all over the SE over the last 25 years. The GSMNP is the best of the best. We camped with friends in April 2016, it is a must go back. — Peggy Harris
Thank you James for all you have done for me and my husband James. Since we have moved in across the creek, I'm very excited that we will be able to do more there and we really enjoy your company. — Pam Mullins
Have You Camped With Us?
We'd Love to Have Your Feedback.
DEEP CREEK HORSE CAMP
750 W. Deep Creek Rd. #11
Bryson City NC 28713
James Clark
James28713@aol.com
828-736-1270
2022 Season
Open Monday, April 3, 2022
Close Sunday, October 16, 2022
Please call us during regular business hours to check availability
Click or tap below to download printable reservation request form and liability waiver
Check Out no later than 12 noon.
Check In after 12 noon.
NOTE: Make checks payable to James Clark. Non-refundable deposit is required.