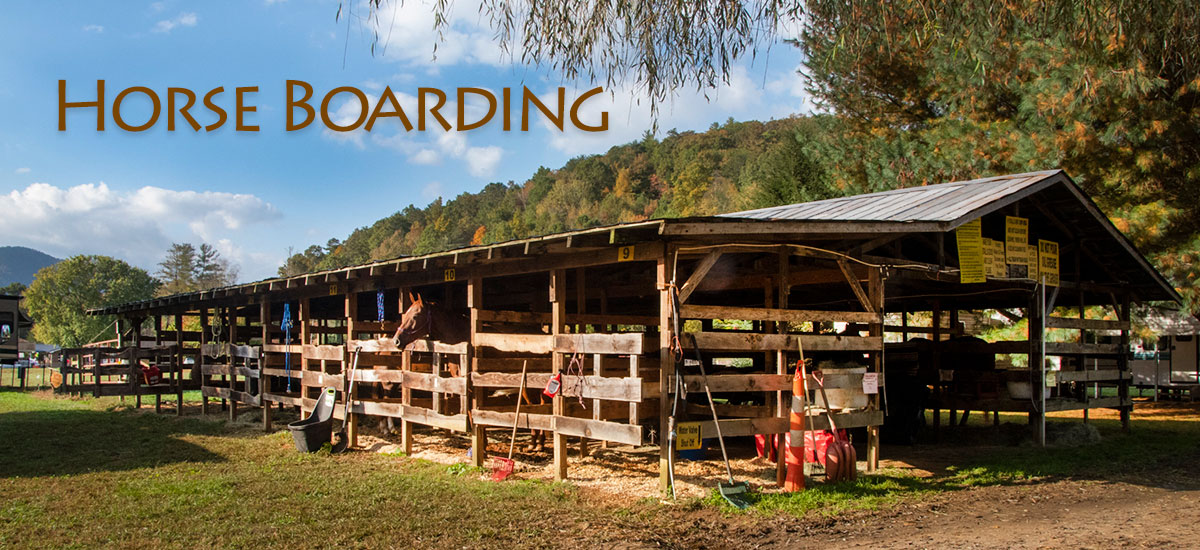 Two Open Barns.
Twenty-seven Stalls. Feed. Water.
All The Comforts You Want For Your Horse.
For Your Horse's Comfort
Boarding rate: $10/night.
Coggins Required! Copy of current test for our files required at check in
Lighted, airy barn with twenty-seven 10' x 10' covered stalls. Mandatory shave-style bedding in stalls. Bring your own or buy on premises
Water piped to each individual stall
Roll hay only $40 per roll
1-acre turnout; 1-hour limit/day
No highline tying of horses, or use of panels allowed
No studs! We are not equipped for them. Sorry!
Trailers available to haul your horse – no additional charge.
Trailer and stall must be cleaned after use to avoid a $35 cleaning fee per stall
Wash rack for your horse and tack
Owner lives on property
Our boarding facilities include 27 stalls, shoe and stock rack, horse wash rack, exercise corral,  turn out pen and complementary horse trailers for combo owners. We also have bedding for sale. Camp diagram
Vets & Farriers
Cherokee Animal Care Clinic, Dr. Robbie McLeod, Veterinarian, Whittier 828-497-3401
Cowee Mobile Veterinarian, Dr. Jessica Scruggs 828-524-6121 or 828-332-2924, Franklin
Smokey Mountain Mobile Veterinary Services, Dr. Mary Coker 828-926-8412, 828-421-0030
Foggy Mountain Mobile Vet Services, Dr. Holly Parkins  828-593-9595
Asheville Equine Hospital, 828-549-8768

Bryson City Veterinary Hospital (

Dog Vet) 828-488-6018
Panther Creek Farrier, Clyde NC, Ben Clark 828-593-9105
Grady Davis, Farrier 828-736-1254
Mobile Mechanic
Wrecker Services
Doyles Wrecker Service, Waynesville  828-452-9343
DEEP CREEK HORSE CAMP
750 W. Deep Creek Rd. #11
Bryson City NC 28713
James Clark
James28713@aol.com
828-736-1270
2023 Season
Open Sunday, April 2, 2023 (weather permitting)
Close Sunday, October 15, 2023
Please call us during regular business hours to check availability
Click or tap below to download printable reservation request form and liability waiver
Check Out no later than 12 noon.
Check In after 12 noon.
NOTE: Make checks payable to James Clark. Non-refundable deposit is required.